Cape Town Safari excursions
You have a number of options when deciding where to go for your Cape Town Big 5 Safari experience.

We offer a Cape Town safari transfer service for small groups to get to any of these destinations.

Services include :
- Pick up from your hotel or guesthouse. By necessity this day has an early start as we need to get to the reserve of your choice in time for the morning game drive
- Iced bottled water and a selection of snacks available in the vehicle for the trip.
- Return transfer to your hotel or guesthouse.

---
Game Reserves
---
Fairy Glen Game Reserve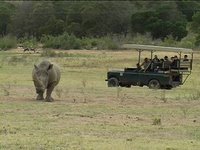 Fairy Glen is situated close to Worcester and is the closest game reserve to Cape Town in which one can view the BIG 5.
On arrival at Fairy Glen you will be served breakfast. This is followed by a 2-3 hour game drive, or horse ride if that is your choice.
After your outing a buffet lunch is served. Before returning to Cape Town guests may visit the African curio shop.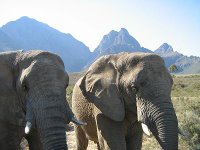 Wildlife which can be seen in Fairy Glen include Lion, Elephant, Rhino, Leopard, Buffalo, Wildebeest, Giraffe, Eland, Bontebok, Zebra, Lynx, Oryx and other antelope species.
Other activities which can be arranged are hiking safaris and nature walks.

Safari and wine day trip

To complete a great outing, what better way than stopping in at a wine estate on your way back to Cape Town.
Close to Fairy Glen, and winner of 'best value' wines on a few occasions, Du Toitskloof wine estate offers the opportunity to stock up on some fantastic wines at special prices. Their Sauvignon Blanc has reached iconic status in South Africa among white wine drinkers.
Fairview, being close to the road back to Cape Town, is another estate at which we can stop off. A favourite with visitors due to their 'famous' goats, and wonderful wines and cheeses, Fairview is always a good spot to break the journey.

Book your safari to Fairy Glen - have a look at our special prices.

Read more about Fairy Glen


---
Aquila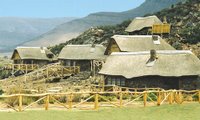 A 4500 ha luxury big 5 reserve set close to Touws River in the Karoo, approximately 2 hours from Cape Town.

The most popular outing is the :
* Day game drive safari - Arrive at Aquila in time for a welcome drink and light breakfast. After breakfast you will board your specialised game viewing vehicle for a 2-3 hr game drive. You end off with a lunch.

Other options include :
* Day Horse-back safari - includes welcome drink, light breakfast, horse-back safari, and lunch.
* Game drive and horse-back safari - includes all of the above, with the horse-back safari taking place after you have enjoyed the morning game drive and lunch.

Book your safari to Aquila - have a look at our special prices.
Read more about Aquila


---
Kagga Kamma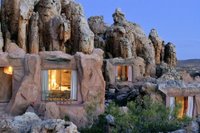 Kagga Kamma Private Game Reserve is situated south of the dramatic Cederberg mountains, beyond the town of Ceres. The reserve features some truly amazing rock formations where one can view a fantastic selection of Bushman paintings.
The day visit to Kagga Kamma includes a rock paintings tour, lunch, and a guided quad bike safari.
For those wishing to stay longer, you can also enjoy a night drive and go on a guided hiking trail.

Book your transfer to Kagga Kamma
Read more about Kagga Kamma


---
Sanbona Wildlife Reserve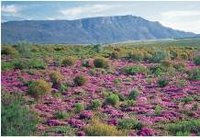 Situated approximately 3 1/2 hours from cape Town, Sanbona is a 54 000 ha 'little karoo' game reserve. This is a 5 star reserve offering all the luxuries you could wish for in a BIG 5 setting. This is not really a day trip, but rather an experience to be enjoyed over a few days - let us take you there for an unforgettable African Safari.


Book your transfer to Sanbona
Read more about Sanbona


---
Grootbos Private Nature Reserve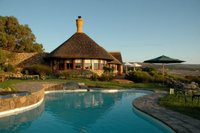 Grootbos is a 5 star nature reserve situated in an area of wonderfully preseved coastal vegetation approximately 2 hours from Cape Town.
Although not a game reserve in the traditional sense, ( in that it is not stocked with a wide variety of large animals ), Grootbos fosuses on the local flora and beach area to give guests their nature experience.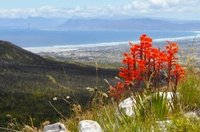 The resort is set among some ancient milkwood trees, and from this base you can enjoy a range of activities for the whole family.
Specialist guides will accompany you on a tour of the local flora, varying from the milkwood forest to the colourful and diverse fynbos.
You can also enjoy wonderful whale viewing from the nearby cliff tops or from a custom built whale-watching boat.
Explore the nearby tidal pools and coastal caves, learning more about some of the early inhabitants of the area.

Book your transfer to Grootbos
Read more about Grootbos


---