The whales, wine, golf and accommodation of Hermanus
WHALES and WHALE WATCHING
---
To experience some of the worlds best whale watching Hermanus offers both fantastic boat cruises, and scenic walk ways, allowing for great viewing from land or sea.
Boat cruises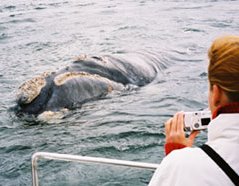 Whilst some locals feared that boat based whale watching would disturb whales in the bay and thus jeopardise the existing land based viewing at Hermanus, the reality is that both are now equally enjoyed by visitors to the area.
The boating industry is closely controlled and a limited number of permits have been issued for legal boat-based whale watching at Hermanus, Gansbaai and Kleinbaai.
Hermanus whale cruises take groups of passengers out in motor-boats for 1-2 hours at a time. Each is allocated specific areas, and the boats always try to keep a reasonable distance from any whales and avoid cow-and-calf pairs if possible.
Some whales are inquisitive and may surface really close to the boats, thus providing an unforgettable close-up encounter.
Other species often encountered on these trips include dolphins, seals and as well as many types of sea birds.
While Southern Right whales are the most common whales seen during the 'whale season', the shy Bryde's whale, and the Humpback whale are also seen on occasions.

---
Land based whale watching
Some of the world's best whale watching can be had from the cliff path which hugs the coastline for about 12 km along the front of the town of Hermanus.
On occasions, whales come to within 25m of the rocky shore, giving whale watchers unparralelled views of these amazing anaimals.
The whales are most prevalent from September through to November, but do start arriving as early as May for their breeding season in the shallow waters of Walker Bay.
One of the unique attractions of whale watching in Hermanus, is the famous 'whale crier' who, with the help of his kelp horn, keeps visitors informed as to the whereabouts of the whales.
For up to date information on the whales, one can call the hotline on 028-3122629
Enquire about a day trip to Hermanus
---
The Southern Right Whale (Eubalaena australis) is a baleen whale, one of three species classified as right whales belonging to the same genus.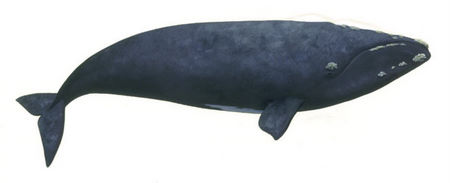 It is almost exactely the same as the closely related North Atlantic and the North Pacific Right Whales, with only slight differences of the skull. It may also have fewer callosities ( see more below ) on its head and more on its lower lips than the two northern species.
Approximately 7,500 Southern Right Whales are spread throughout the southern part of the Southern Hemisphere. These Right whales cannot cross the warm equatorial waters to connect with the other (sub)species and breed, as their thick layers of insulating blubber make it impossible for them to dissipate their internal body heat in tropical waters.
As with other whales, the Southern Rights are extremely intelligent. Mothers form close relationships with their young, who suckle from birth until about one year of age. As mammals, they are born with a fine sprinkling of hair which through the years mostly disappears.
Prior to their complete protection in 1937, Southern Rights were hunted close to extinction due to their being the 'right' whale to hunt - slow moving, shore hugging whales which floated when dead.
Cessation in hunting has seen their numbers increase over the years until now they are a common sight in many countries during their breeding season.
---
Features
The most distinctive features of all Right Whales including the Southern Right, are the raised patches of skin called 'callosities' on their head, snout and lips.
These rough, pale patches may be any colour from white to yellow or pale pink and contrast starkly with the overall dark grey colour of the body.
The surface of the callosities is very rough and jagged due to the whale lice which feed on and sculpt the mounds into pads of course sandpaper-like skin.
These callosities are easily spotted when the whales come to the surface to breath especially since they also often raise their chin or entire head during social contact with other whales.
Each whale has unique patterns formed by callosities, allowing animals to be individually identified.
Right Whales are also distinguished by their broad backs with no dorsal fin, and a long arching mouth which begins abve the eye.
---
Communication
Like dolphins, whales communicate by means of sonar.
They make clicking, grunting and whistling sounds which also act as a means of navigation. These can be heard for miles under and above the water. Lobtailing ( the slamming of tails on the water to make loud splashing sounds ), and breaching, are also thought to be a means of communication.
---
Size
Calves are 5-6 meters long at birth. The average size for an adult male (approximately 10 years of age ) is 15.2 m and the females can reach a maximum length of 18 m and weigh 80 tonnes.
---
Habitat
The Southern Right Whales inhabit sub antarctic waters between about 30° and 55° south. The whales migrate south during the summer months when supplies of krill are more prolific, and north during winter and spring to mate, calve and rear their young. They appear around the South African coastline from May to December. They visit sheltered bays and coves close inshore and near river mouths, with Hermanus and False Bay being particularly popular.
---
Reproduction
Females reach sexual maturity at 6-12 years and breed every 3 to 5 years. Both reproduction and calving take place during the winter months. Calves are approximately 1 metric ton in weight and 4-6 metres in length at birth following a gestation period of 1 year. The right whale grows rapidly in its first year - typically doubling in length.
Weaning usually occurs after about eight months to one year and the growth rate in later years is not well understood - it is thought to be highly dependent on whether a young whale stays with its mother for a second year. The newborn is helped to the surface of the ocean by its mother to take its first breath, and after about thirty minutes has learned to swim.
---
Diet and feeding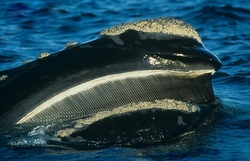 The right whales' diet consists mainly of zooplankton and tiny crustaceans such as krill. However they are occasionally opportunistic feeders when they will feed by "skimming" along with their mouths open. Water and prey enters the mouth but only the water can pass through the baleen and out again into the open sea.
Thus, for a right whale to feed on a given prey animal, the animal must occur in sufficient density to trigger the whale's interest and be large enough that the baleen plates can filter it but small enough that it doesn't have the speed to escape. The "skimming" may take place on the surface (where it can be spectacular to watch), underwater or even close to the ocean's bottom - as indicated by mud occasionally observed on right whales' bodies.
---
Motion
Right whales are slow swimmers - reaching only 5 knots at top speed - but are highly acrobatic and frequently breach ( jump clear of the sea surface ), tail-slap and lobtail.


Breaching
When a whale leaps out of the water, sometimes twirling around, it is called breaching. This action may be done purely for play, or may be used to loosen skin parasites and other irritations the whale might have. Breaching is also believed to be a means of communication with other whales and is usually done in sets of between four and six.

Lobtailing
This is an activity in which the animal sticks its tail out of the water, swings it around and then slaps it onto the water's surface. This produces a loud sound which is believed to be a means of communication between whales.

Logging
We say a whale is 'logging' when merely lying in the water, with part of the head and back exposed.


Spouting / Blowing
When whales blow water out of the blowholes located near the top of the head it is known as spouting. Southern Right Whales have two blowholes which act as nostrils. When they blow water out of their blowholes a distinctive V-shaped cloud of vapour is produced largely by condensation when warm breath comes into contact with cooler air.
---
Lifespan
The lifespan of the Southern Right whale is estimated to be between 90 - 100 years, meaning that on average they probably live longer than humans. Due to the fact that Right whales frequent the coastline for several months of the year, they remain one of the favorite species among whale watchers around the world.
---
Fernkloof Nature Reserve
Office tel : +27 28-3130819

Email: botsochermanus@telkomsa.net

Wildflower Festival Enquiries (Eco Fair): +27 28-3130093 or +27 28-3124148

Fernkloof Nursery : +27 28-3122985
This 1446 hectare reserve, situated in the Kleinrivier Mountains above Hermanus, opened in 1960.
It is a sanctuary for flowers ( some 1600 plant species occur here ), birds and game, with approximately 50 km of graded footpaths allowing visitors to view wild flowers growing in their natural habitat. These paths provide the opportunity for people of all fitness levels to go out and enjoy some exercise and fresh air.
Grey rhebok, Cape grysbok, klipspringer, baboon, mongoose and dassie are all present in small numbers. Others animals such as porcupine, genet and hare are nocturnal and these mammals are seldom seen. The various trails offer magnificent views of Walker Bay, the Hemel en Aarde Valley and Maanskynbaai.
The Nature Reserve boasts a wonderful herbarium where a comprehensive collection of endemic species can be admired and viewed.
View the list of plant specimans to be found in the Fernkloof Nature Reserve.
---
Harold Porter Gardens
Clarence Drive, Betty's Bay
Telephone : +27 (0)28-272 9311
The Harold Porter National Botanical Garden is home to a spectacular variety of sugar bushes (Proteas), heats (Ericas), conebushes (Leucadendrons), and cape reeds (Restios).
It incorporates the four important vegetation types found in the Overberg. The afro montane forests, wetlands, coastal dunes and fynbos plants are well represented and can be experienced by means of self-guided, wheelchair-friendly paths or in the form of an organised tour where a guide will point out numerous features of plants and animals found in the region.
The Disa Kloof ( named after the unique orchid found in the Cape ), and Leopard's Kloof, both boast spectacular waterfalls and enchanted forests.
The Khoi-San indigenous garden features a selection of useful / medicinal indigenous plants.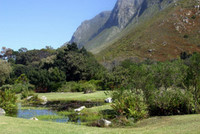 This garden highlights the important roles that plants play in the cultures and traditions of South African people.
'Edu-tours' must be arranged in advance as they are offered by trained environmental educational officers.
Visitors can enjoy a light meal or coffee break at the on-site restaurant, and can also have a look around the nursery where indigenous plants are propogated and sold.
As part of a day trip to Hermanus, the Harold Porter National Botanical Garden is highly recommended.
---
The Hermanus Wine Route situated in Walker Bay is a climatically cool viticultural area influenced by the sea breezes coming off the cold Atlantic ocean.
All the wineries in the Hemel-en-Aarde Valley are within +/- 8km of the sea, some as close as 3km. The valley is sheltered by mountains which also act to channel the wind up the valley providing the cool conditions which make this such a good wine producing region.
The terroir of the Hemel-en-Aarde valley make for ideal conditions for the production of Chardonnay and Pinot Noir wines. Some estates produce other wines but most concentrate on these two varieties, with Savignon Blanc becoming increasingly popular.
Hamilton Russell
This Hemel-en-Aarde estate has been the recipient of many national and international awards for their sophisticated burgundy-inspired wines.
Among this estate's esteemed repertoire are the following wines: 2008 Pinot Noir, 2008 Chardonnay.
Read more about Hamilton Russell
Bouchard Finlayson
Established in 1989, this boutique winery is dedicated to the making of Pinot noir, Chardonnay and Sauvignon Blanc wines of outstanding quality.

This 125-hectare property currently has 19 hectares under vines; the rest is mountain land, covered by the spectacular indigenous 'fynbos' flora of the Western Cape.
With only a small portion of the farm under vine Bouchard Finlayson is able to ensure the conservancy of the mountain land.
A few of the estate's special wines are: Galpin Peak Pinot Noir, Crocodile's lair chardonnay, and Missionvale Chardonnay.
Read more about Bouchard Finlayson
Souhern Right
Situated only 3km from the sea, Southern Right focuses exclusively on Pinot Noir and Chardonay - concentrating on varieties deemed most suitable for their location.
Read more about Southern Right
Newton Johnson
Whilst also concentrating on Pinot Noir and Chardonnay, Newton Johnson has also established a limited area of Syrah and Sauvignon Blanc.
Read more about Newton Johnson wines
Ataraxia Wines
Situated on the highest section of the Hemel-en-Aarde valley, beneath the Babylons Toren mountain range, Ataraxia produces high quality wines and has a tasting room to match.
Read more about Ataraxia Wines
Creation Wines - relaxed wine tasting with a popular food and wine pairing
---
---

Book your day tour to Hermanus
Go from Hermanus back to Tours

Contact us